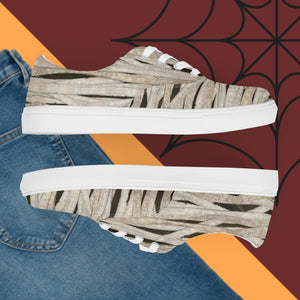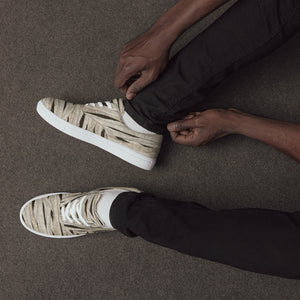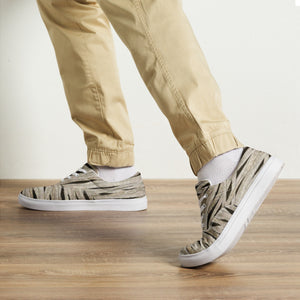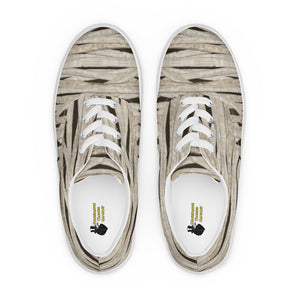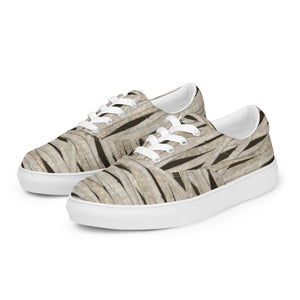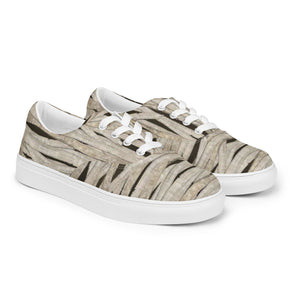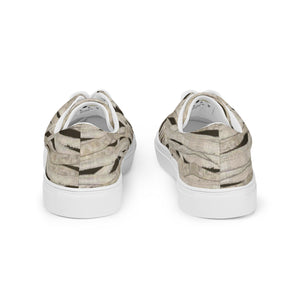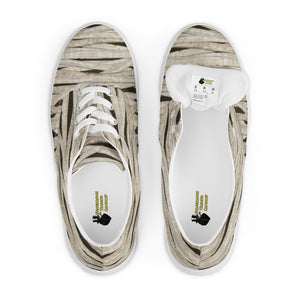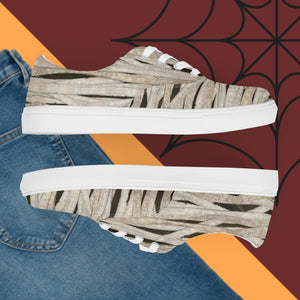 Mummy Wraps Men's Lace-up Canvas Shoes
Step into your Halloween stylishly with a pair of Mummy Wraps Men's Lace-up Canvas Shoes! These spooktacular shoes are not only comfy and durable, but also make a statement sure to get you lots of "oooohs" and "ahhhhs" from your admirers. They'll last you through all kinds of ghastly tomfoolery season after season! So go ahead, lace 'em up and show off that one-of-a-kind style!
• 100% polyester canvas upper side
• Ethylene-vinyl acetate (EVA) rubber outsole
• Breathable lining
• Padded collar and tongue
• Removable insole
• White laces
• Blank product sourced from China
Important: This product is available in the following countries: United States, Canada, Australia, United Kingdom, New Zealand, Japan, Austria, Andorra, Belgium, Bulgaria, Croatia, Czech Republic, Denmark, Estonia, Finland, France, Germany, Greece, Holy See (Vatican city), Hungary, Iceland, Ireland, Italy, Latvia, Lithuania, Liechtenstein, Luxemburg, Malta, Monaco, Netherlands, Norway, Poland, Portugal, San Marino, Slovakia, Slovenia, Switzerland, Spain, Sweden, and Turkey. If your shipping address is outside these countries, please choose a different product.
This product is made especially for you as soon as you place an order, which is why it takes us a bit longer to deliver it to you. Making products on demand instead of in bulk helps reduce overproduction, so thank you for making thoughtful purchasing decisions!
Size guide
| | | | | | | |
| --- | --- | --- | --- | --- | --- | --- |
|   | US MEN | UK | EUROPE | FOOT LENGTH (inches) | JAPAN | OUTSOLE LENGTH (inches) |
| 5 | 5 | 4 | 37.5 | 9 ⅛ | 23 | 10.00 |
| 5.5 | 5.5 | 4.5 | 38 | 9 ¼ | 23.5 | 10.00 |
| 6 | 6 | 5 | 38.5 | 9 ½ | 24 | 10 ¼ |
| 6.5 | 6.5 | 5.5 | 39 | 9 ⅝ | 24.5 | 10 ¼ |
| 7 | 7 | 6 | 40 | 9 ¾ | 25 | 10 ⅝ |
| 7.5 | 7.5 | 6.5 | 40.5 | 10.00 | 25.5 | 10 ¾ |
| 8 | 8 | 7 | 41 | 10 ⅛ | 26 | 10 ¾ |
| 8.5 | 8.5 | 7.5 | 42 | 10 ¼ | 26.5 | 11 ⅛ |
| 9 | 9 | 8 | 42.5 | 10 ½ | 27 | 11 ⅜ |
| 9.5 | 9.5 | 8.5 | 43 | 10 ⅝ | 27.5 | 11 ⅜ |
| 10 | 10 | 9 | 44 | 10 ¾ | 28 | 11 ⅝ |
| 10.5 | 10.5 | 9.5 | 44.5 | 11.00 | 28.5 | 12.00 |
| 11 | 11 | 10 | 45 | 11 ¼ | 29 | 12.00 |
| 11.5 | 11.5 | 10.5 | 46 | 11 ½ | 29.5 | 12 ⅛ |
| 12 | 12 | 11 | 46.5 | 11 ¾ | 30 | 12 ½ |
| 12.5 | 12.5 | 11.5 | 47 | 11 ⅞ | 30.5 | 12 ½ |
| 13 | 13 | 12 | 47.5 | 12 | 31 | 12 ¾ |
| | | | | | | |
| --- | --- | --- | --- | --- | --- | --- |
|   | US MEN | UK | EUROPE | FOOT LENGTH (cm) | JAPAN | OUTSOLE LENGTH (cm) |
| 5 | 5 | 4 | 37.5 | 23.2 | 23 | 25.4 |
| 5.5 | 5.5 | 4.5 | 38 | 23.5 | 23.5 | 25.4 |
| 6 | 6 | 5 | 38.5 | 24.1 | 24 | 26.2 |
| 6.5 | 6.5 | 5.5 | 39 | 24.5 | 24.5 | 26.2 |
| 7 | 7 | 6 | 40 | 24.8 | 25 | 27 |
| 7.5 | 7.5 | 6.5 | 40.5 | 25.4 | 25.5 | 27.3 |
| 8 | 8 | 7 | 41 | 25.7 | 26 | 27.3 |
| 8.5 | 8.5 | 7.5 | 42 | 26 | 26.5 | 28.3 |
| 9 | 9 | 8 | 42.5 | 26.7 | 27 | 29 |
| 9.5 | 9.5 | 8.5 | 43 | 27 | 27.5 | 29 |
| 10 | 10 | 9 | 44 | 27.3 | 28 | 29.5 |
| 10.5 | 10.5 | 9.5 | 44.5 | 28 | 28.5 | 30.5 |
| 11 | 11 | 10 | 45 | 28.6 | 29 | 30.5 |
| 11.5 | 11.5 | 10.5 | 46 | 29.2 | 29.5 | 30.8 |
| 12 | 12 | 11 | 46.5 | 29.9 | 30 | 31.8 |
| 12.5 | 12.5 | 11.5 | 47 | 30.2 | 30.5 | 31.8 |
| 13 | 13 | 12 | 47.5 | 30.6 | 31 | 32.4 |